Eningerrberriba-langwa Calendar
Yaka-manja Yimawura - Akilarrkiyelyukwa
Bush Calendar: this season - Rainy (summer) season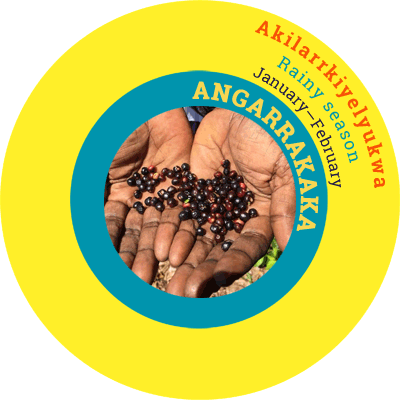 Spoken by Judy Lalara
All bush calendar entries:
Angarrakaka - jungle currant (Antidesma ghaesembilla)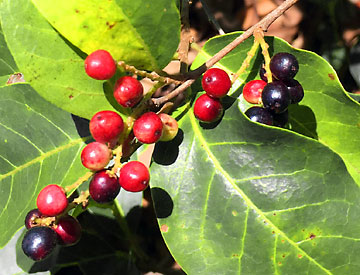 Angarrakaka in fruit, January-February
Ena angarrakaka nalungkuwarringinama ekbulkuwurrariya-manja akwa murungwena-manja.
Arakbawiya warnumamalya nuwalikarnuma erriberriba-wa narrarrkarrangbama amamamuwa amaninga biya nalawurradina-manja angalyuwa narraminuwilyaka-ma wurriyukwayuwa-langwa kajungwa kuwalyubarina-yada.
Ena angarrakaka eningaba aninga.
— Yingerrikarranguma Judy Lalara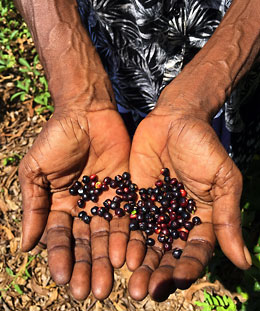 Judy Lalara harvests angarrakaka
The angarrakaka or jungle currant trees grow in the jungle and in swampy areas. Their fruit appears in January and February.
A long time ago, people ate the fruit. They brought some home for the children to eat.
Jungle currant is good fruit!
— Written by Judy Lalara
For more information about Aboriginal cultural calendars, see the Australian Bureau of Meteorology's Indigenous Weather Knowledge web pages.