Eningerrberriba-langwa Calendar
Yaka-manja Yimawura - Akilarrkamarika
Bush Calendar: this season - Dry (cold) season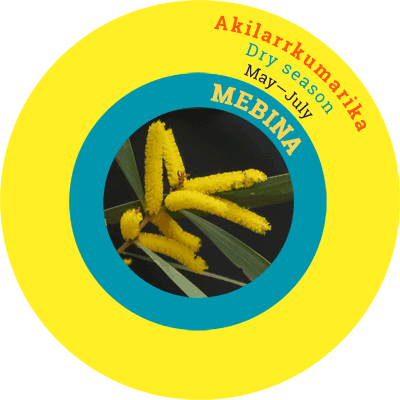 Spoken by Judy Lalara
All bush calendar entries:
Mebina - wattle tree (Acacia difficilis)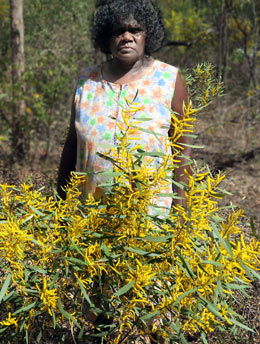 Carol Wurramara with mebina
Mamawalyuwa mema-langwa mebina numabijungina-ma yimirndakena-manja yimawura.
Mema mebina numulingkuwarrinina-ma erriberra-manja akwa mijiyela-manja.
Warnumamalya nuw-alyubarna-ma mamukwarnjirra mamaninga.
Warningarakbakiya wurrarumuruma warnungkwarba arakbawiya narrumanguma mememeka biya narrum-alkuwayijuwama mamakwulya akwa narruma-ngekburaka-ma mawilya warni-awiyebi-yada.
Akimarringina-manja mamawalyuwa ngarningma arakba akina amungkwa kawilyakina-ma amalya.
Makina mamawalyuwa mebina-langwa ngarramenimikina-ma arakba akandiyama yilyakuwa ayika-manja biya akiridena-ma akina ayika kajungwa akinarrangbini-yada yilyakwa . Yakina yilyakwa ena-manja ayangkidarrba yinimikirra Yinubarra.
— Yingerrikarranguma Sylvia Tkac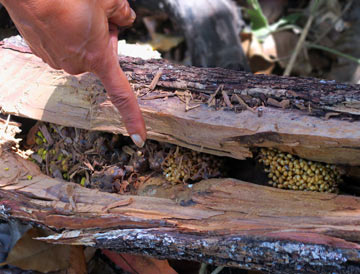 When mebina flowers, it's time to look for yinubarra (wild honey).
The mebina, or wattle tree, flowers from April to July.
Mebina grows in the bush and at the beach.
We eat its sticky gum.
A long time ago, our men used the wood from this tree and peeled off the outer bark to make tassels to wear.
When we see mebina flowering we know the golden snapper fish has plenty of fat.
We also know that when mebina is flowering it's time to look for wild honey in the hollow trees. In our language Anindilyakwa, this wild honey is called Yinubarra.
— Written by Sylvia Tkac
For more information about Aboriginal cultural calendars, see the Australian Bureau of Meteorology's Indigenous Weather Knowledge web pages.