Eningerrberriba-langwa Calendar
Yaka-manja Yimawura - Akilarrkumurndada
Bush Calendar: this season - Dry (cold) season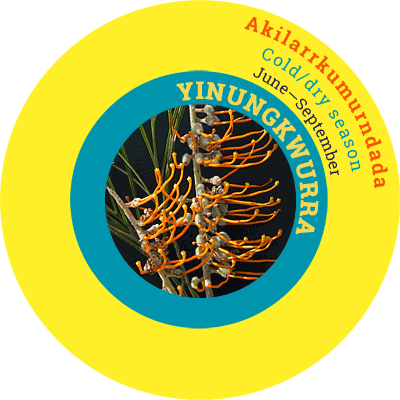 Spoken by Sylvia Tkac
All bush calendar entries:
Yinungkwurra - grevillea (Grevillea pteridifolia)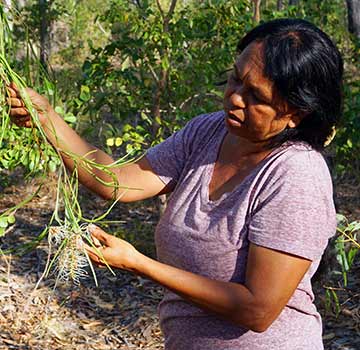 Sylvia Tkac with yinungkwurra (moonlight grevillea)
Yaka yinungkwurra nilungkwarrinama akwudanga mijiyelya-manja, erriberriba-manja, akwa adalyuma-manja yabiyarrbuwa nganuwilyakinama yelakwa ena manja Ayangkidarrba akwa Amakalyakba.Wudarriyawiya wurriyukwayuwa akwa wurrarumurma narringibijama yinungkwurra langwa akurara amalyirra.
Grevillea flowers from April to September and grows near the beach, bush and rivers. There are four types of grevillea on Groote Eylandt and Bickerton.
In the early mornings, children and adults sucked the nectar from the flowers of the fern-leaved grevillea yinungkwurra.
— Yingerrikarranguma Sylvia Tkac
— Written by Sylvia Tkac
For more information about Aboriginal cultural calendars, see the Australian Bureau of Meteorology's Indigenous Weather Knowledge web pages.