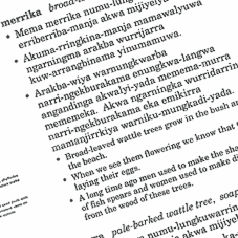 The community language of the Groote Eylandt Archipelago is Amamalya Ayakwa (Anindilyakwa). The  language is Indigenous and unique to our islands and is one of the very strongest Australian Indigenous languages. It is spoken by nearly 100% of the Aboriginal communities on Groote Eylandt and Bickerton Island, and is learnt as a mother tongue/first language in most Aboriginal families on the islands.
It is a rich, complex and beautiful language. Linguists describe our language as having one of the most complex grammars of all the world's languages. The language is an extremely important part of expressing our identity and our knowledge of our island and its people, culture, environment, and history.
Judy Lalara, one of our senior Language Officers, explains:
"
Our language is important for all 3 of our communities. It is important for children to learn for the future. We talk strong. We want to keep our language safe we don't want to lose it from our tongue. It is the language which our old people spoke. They taught us. They said keep it strong and don't let it die. It is a gift from our ancestors. It connects to the land, river down to the sea and surrounds the island. My totem travelled from the mainland towards central hill. I know my family tree and my Grandfather was from Bickerton Island. I was born here at Angurugu at the hospital near the edge of the river. I think the language was a special gift for everyone. I got all the explanation from my father, he was a song man.
"