AWARNDA: the Anindilyakwa word for "money"
The Royal Australian Mint has designed and produced a special coin celebrating 2019 the International Year of Indigenous Languages. The Anindilyakwa word awarnda is one of the 14 words from different Australian Indigenous languages that appear on the coin.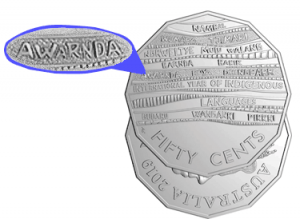 In the Anindilyakwa language and culture of the Groote Archipelago in the Northern Territory, awarnda "money" (notes and coins) is a totem associated mainly with the Wurramarrba Clan of Bickerton Island. The awarnda totem is also connected with the trading patterns and exchanges between Anindilyakwa clans and Macassans over several hundred years. There are songs, stories and sites connected with this totem.
Semantically, awarnda refers to tokens of exchange value, i.e. notes, coins and the general concept of money, while the specific word for coin objects is amamamuwa, which refers to "round things", like seed pods (and coins).
Awarnda (money)
Awarnda noun Ena awarnda warnumamalya na-makwuna-ma amirndakijika.
Awarnda means 'money'.
   — Anindilyakwa Word of the Day for Friday 11th August 2017
   — Spoken by Judy Lalara, series by Judy Lalara, Sylvia Tkac and Carol Wurramara
Use of the Anindilyakwa word awarnda on this coin was approved by senior language speakers from the Anindilyakwa communities of the Groote Eylandt archipelago, and by Anindilyakwa Land Council Chair Tony Wurramarrba on behalf of the Wurramarrba clan which has the principal totemic relationship with awarnda.
Thanks to those who have contributed information: Tony Wurramarrba, Mark Hewitt, Judy Lalara, K. Mamarika, Sylvia Tkac, Carol Wurramara, Patricia Lalara, Carolyn Fletcher, Hugh Bland and David Nathan