Groote Eylandt Ayakwa (Language) Centre: Context and Projects

Presentation at Puliima Conference, Darwin, 21-22 August 2019
Presenters: K. Mamarika, Lily Yantarrnga, Carol Wurramara, Katelynn Bara, Judy Lalara
K. Mamarika
Halo, nganyangwa ekirra K. Mamarika
Hello, my name is K. Mamarika
Aduwaba yarna kamakinama yirrilangwalangwa ayakwa Anindilyakwa
Today we will tell you about our language, Anindilyakwa
Yarna yikiyengbinama yirrilangwuma ayakwa Anindilyakwa enena-manja presentation mena yirrilangwa akwa yirrilangwalangwa warnungwarekbakiya warnumamalya ena eningadinibawiya ayakwa baba
We will talk in our language, Anindilyakwa, for this presentation. We prefer to talk in our language, because it is the first language of our people
Yarna yirruwerrikilyelyingmajungwunama yarningankawura ngawa yirrilangwalangwa ayakwa kemba ngarraminingayindenama yikengkirrajama nungkurruwa
We're proud of our language, and we want you to hear it
Kirrakina yikiridumindenama amangkadirruma amirndakibina yikiyengbina-manja subtitles
You can read the English translation of what we are saying in the subtitles on the powerpoint
Yirrumirndakayena Groote Eylandt-langwa,ebina nuwambilyama Gulf of Carpentaria-manja
We are from Groote Eylandt-langwa that is in the Gulf of Carpentaria
Yirrumirndakeyena yirrirukularrinuma yakwujina akwa yarna yirrambambilyama angkababurna langwa ngawa Groote Eylandt-manja
We were born there, and we always live on Groote Eylandt
Akina ambilyuma community Ambukwamba akwa Angwurrkwa akwa mining town Alyangkwula Groote Eylandt-manja
There are two communities Umbakumba and Angurugu and a mining town Alyangula on Groote Eylandt
Ngarningka awilyaba community Milyakburra nuwambilyama Bickerton Island-manja angalaliba akwabirrangarna Groote Eylandt-langwa
There is a third community, Milyakburra, on Bickerton Island, an island north-west of Groote Eylandt
Akilikaja-manja Bickerton Islandu-wa Groote Eylandt-langwa angaliba Alyangula-langwa ferry-ma ngarna 1 hour akamuwilyakinama makina yenjerrikina,umba erribilenuma akilikaja-manja makina 10 mins makina akamuwilyakinama yenjerrikina
When we go to Bickerton Island from Groote Eylandt leaving from Alyangula on the ferry it takes 1 hour to take us there, but when we go on the plane it takes 10 mins to take us there
Ena ayakwa eningadinibawiya Groote Eylandt-langwa.
Anindilyakwa is the first language of Groote Eylandt
Ena ayakwa nayengbiyengbeyinuma arekbirekbakiya-wiya-langwa ngawa yirrilangwa warnumamalya
This language was spoken from a long, long time ago by our people
Ena ngawa arribida nayangbijejungwunama ebina eningadinibawiya ayakwa Australia-langwa
This first language of Australia is spoken strongly
Ena ayakwa emikbiyiya ena yirrakarribidirrkinama
This language is important, it makes us strong
Yarna yirruwarduwardenama angababurna-langwa language centre-manja
We are always working at the language centre
Yirruwardenama ababurna-manja projects yarna, kemba kamakinama akwala nungkurruwa-manja
We work on many projects. We will tell you about some of them
Lily daka yikangumakinama yirrumenama-langwa alwudawarra enungkunungkurakba-langwa jurra akwa yirringekbirakinama-langwa enikinikaduwa jurra
Lily will tell you about how we make old books new again
Carol ngalaja yikangumakinama audio recording-langwa
Carol will tell you about audio recordings of stories
Lola yikangumakinama videos ebina yirrumirndakingekburakinama-langwa
Lola will tell you about videos we have made
Kembirra Agatha akwa Judy wurrungalakina yikabumakinama yirrikuwerrukwajinama-langwa amangkadirra ayakwa yirrilanguwa amamalya ayakwa
And Agatha and Judy will tell you about translating English to Anindilyakwa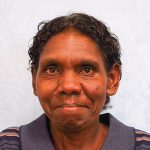 Lily
Halo, nganyangwa ekirra Lily Yantarrnga
Hello, my name is Lily Yantarrnga
Aduwaba ningena ningiyengbinama enungarakbakiya langwa jurra
Today I will talk about our jurras (books)
Kemba yarna yirrilawurrakajinama enungwarakbakiya jurra yirrenibikinama akwa yirrenikaduwakinama
We are taking the old books and making them new
Ena jurra enungkuraba, nuwarrkajungwunuma 1974-manja
This is the old jurra, it was made in 1974
Yirruwa yirrumurndukwayinama akwa yirrilyelyumbukweyinuma akinalangwa jurra kajungwa wurruyukwayuwa karriridimideniyada ambakamurra.
We sat together and talked about how to make the jurra easy to read for the children
Ena arakba eningaba kajungwa kuweningmidinayada akwa karriridimideniyada arakba schoolmanja
Now it is easy to read and we will use it in the school program
Ena eningarakbakiya jurra yimenda-langwa alawudawarra, kajungwa wurriyikeyuwa karringkeniyada akwa karriridimideniyada ambakumurra
This old jurra is about the turtle story, so that the children can see and read it for the future
Yirruwa yirrakburrangama eningarakbakiya alawudawarra akwa eyukwayuwa akwurruburringka yirralangwamanja jurra
We found this old story and some small pictures in our dictionary
Yirruwa yirrumurndukwayinuma akwa yirrilyelyumbukweyinuma amirnakinalangwa jurra kajungwa ngakwurrilangwa wurriyukwayuwa karrirringkinayada akwa karriridimidinayada ambakamurra
We sat together and talked about how we make the jurra easy for the children to read
Kembirra dakina Brighde yingakumarna alida akinamanja jurra
Then Brighde gave colour to those pictures
Ngakurruwa ngarrarukweyinama ena jurra akwalamanja communities enamanja Australia, ena ngakwurruwalangwa project International Year of Indigenous Languages
We are sharing this book with other communities in Australia, as part of a project for the International Year of Indigenous Languages
Kirrababurna wurrirringkina yirrilangwa jurra. Eningaba!
Everybody, look at our book now! It looks good!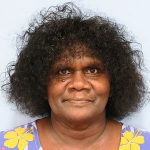 Carol
Halo, nganyangwa ekirra Carol Wurramara
Hello, my name is Carol Wurramara
Aduwaba ngayuwa ningiyengbinama eningerribirralangwa alawudawarra ebina narrayangkwabajinama akumalyumalyangkamanja kajungwa wurrababurna warnumamalya kuwengkirrikajiyada.
Today I will talk about recordings of our stories
Yirruwa yirruwilyakinama ababurna alawudawarra yirrilanguma ayakwa
We have lots of stories in our language
Yirruwa yirriyangkawiyabajinama eningerribirra alawudawarramirriya kajungwa wurriyukwayuwa kuwengkirrikajiyada eningabawiya kayengbiniyada yirrilangumirra amamalya ayakwa
We record these stories for the kids to listen. They need to hear the right way so they can speak our language
Ena ayakwa yirrarrkarranguma schoolyada.
We made this recording for the school.
Akina meditation recording wurriyukwayuwayada kajungwa kuwengkirrkajayada akwa karrakumamurikajinayada wurridirringekburna kuwambilyayada.
It is a meditation video, for the kids to listen to, to help them feel relaxed.
[Play meditation video]
Katelynn
Halo, nganyangwa ekirra Lola
Hello, my name is Lola
Aduwaba ngayuwa ningiyengbinama yirrilanglangwa akirrbirringka 'Ambarrngarna' akwa 'Eningaba aninga'.
Today I am talking about our videos, 'Ambarrngarna?" and 'Eningaba Aninga!'
Ngayuwa ningekburakama Ambarrngarna nungwardanguma wurrumirndakeyinamanja Radio Team
I made 'Ambarrngarna?' with the Radio team
Adinubawiya ngayuwa ningekburakama jurra kajungwa kawilyakajinayada wurriyukwayuwamanja amirndakenalangwa alida akwa akerrikerra
First I made a book to teach children about colours and numbers
Wulka amamalya ayakwa mena warna wurriyukwayuwa enenalangwa Ayangkidarrba nayengbinama ambawura amangkadirra
It is only in Anindilyakwa because children on Groote Eylandt don't speak a lot of English
We made the video with IndigiMob and showed it to people in Alice Springs
Yirruwa yirringekburakama akirrbirringka IndigiMobmanja akwa yirrawilyakajuwama warnumamalyamanja angakuba AliceSpringmanja
[Play video]
Awilyaba video yirruwa yirringekburaka aningalangwa Eningaba aninga.
Another video we made is 'Eningaba Aninga!'
Yirruwa yirringekburakama ena kajungwa yikawilyakajinayada warnumamalya eningaba aninga
We made this to teach people about healthy food
Ena yimbuka amamalyuma ayakwa mena wurrababurna wurrarumuruma nalelyingminama kayengbinama yirrilanguma amamalya ayakwa, nara amangkadirra. Ngakwurrilangwa amamalya ayakwa ena namarndenama enamanja ayangkidarrba.
It is only in Anindilyakwa because most adults like to speak in our Anindilyakwa language, not in English. Our language is stuck to this island.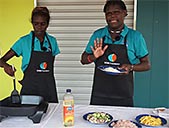 See the video ...
Ena video chicken curry-langwa, akwa ngarningka awilyaba yiburadalangwa stew.
This video is about chicken curry, and we have one about kangaroo bolognaise.
Ambakumurra yirruwa yikingekburakinama akina museli
Next time we will be making muesli
Yum! Eningaba Aninga!
Yum! Good food!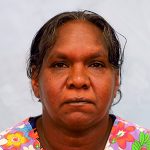 Agatha
Halo, nganyangwa ekirra Agatha
Hello, my name is Agatha
Aduwaba ngayuwa akwa Judy yikingiyengbinama yirrarrkirrenamulangwa ayakwa amangkadirralangwa yirrilanguwa amamalya ayakwa
Today, Judy and I are talking about translating from English to our Anindilyakwa language
Yirruwa yirriyarrkwarrkwajinama ayakwa amangkadirra yirrilanguwa amamalya ayakwa kajungwa wurrababurnalangwa yirrilangwa warnamamalya karrimuringkinayada ebina amangkadirra nuwerrkarrijungwunama.
We translate for the whole community, so that all our Warnumamalya people understand.
Yirriyarrkwarrkwajinama amangkadirra ayakwa ebina nalarrkajungwunama jurra angaliba eminingkalangwa angalya enenuwa ayangkidarrba ebina amikbiya aningangkawura ngawa yirrababirnalangwa yarnamalya akwa kirrimangkadirralangwa enenamanja angalya Australia.
We translate information from outside our island, that is important for all Australians.
Yarna ngarningka yirriyarrkwarrkwajinama ebina ayakwa aningenumamalyalangwa organisation, ebina nawilyakinama amikbiya ayakwa enenalangwa community.
We also translate information from our local organisations, with information important to this community.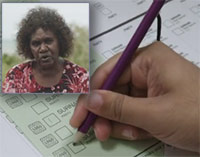 See the videos ...
Yarna yirriyarrkwajuwama amangkadirralangwa ayakwa yirrilanguwa amamalya ayakwa electionlangwa kajungwa karrimuringkinayada yirrilangwa ayakwa kemba kuweningmidinayada adirrbura voting kayaminayada.
For the election we translated a message so that our people could understand, and could know the right way to vote.
Wurrirringkina ena video
Watch the video!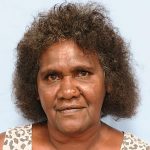 Judy
Halo, nganyangwa ekirra Judy
Hello, my name is Judy
Awarnkadinuba ngarningka awilyaba ayakwa MJD-langwa yirriyamama
Another translation we did not too long ago was for the MDJ foundation.
Akina MJD awurrariya angbiluwa wurrukwalamanja yirrilangwa warnumamalya namirndakayuwayijinama aburrilangwa yarrerra kembirra arakba aringkidarrbalangwawiya nara arakba alikanguma yeya.
MJD (short for Michado-Joseph Disease) is a bad disease that affects some of our people. It makes their muscles weak, so that after a while they can't walk or move around.
Akina kembirra ayakwa yirrerrkerrenama ebina kayaminamulangwa exercise mijiyelyamanja akwa erriberribamanja kajungwa karrakumamirikajinayada warumamalya wurribina narruwilyakinama MJD wurridirringekburna kamirndakuwarrinayada akwa kalikajayada yeya awankamiyerra.
This translation gives information about doing exercise out in the bush and at the beach, to help people with MJD be able to keep walking and moving around for longer.
Awilyaba translation ngarninga yirriyamama awankadinuba bilijimenalangwa.
Another translation we did not too long ago was for the police.
Wurrakina warnumamalya kuwangkirrakaja akina ayakwa kalikajamanja shopuwa. Akina ayakwa kirrakumakinama warnumamalyuwa kajungwa yikuwardenayada yirruwurakawaruma akwa kuwambilyayada amulyukwa yirrilangwa angalya.
People can hear this message when they go to the shop. It tells people information about how we can work together towards having a safer community.
[Play demonstration of Police translation]