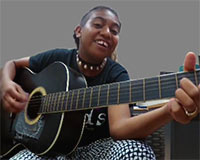 Emily Wurramara yingimebina-ma emeba 'Milyakburra'
Emily Wurramara yingilikenima yangkwurrangwa enenuwa ayangkidarrba Groote Eylandt-uwa aburruwa GEMYDU-langwa warnikuwarduwarda warka akina-langwa karrungwanjejina-ma-langwa nara yada angajejungwuma akwa ajungwuma.
Dakina yingningarranguma Language Centre biya Sylvia nangawilyakajuwama yirruwa akwa nangayangkilebena kingumebina-yada emeba Milyakburra-langwa amamalyuma.
Emily Wurramara sings 'Milyakburra'
Emily Wurramara visited the Groote Eylandt Language Centre on 7th February 2017. She was brought to Groote Eylandt by GEMYDU to work with youth suicide prevention.
Play video
Play audio
Judy Lalara yingimakina-ma Yinikarrka-langwa alawudawarra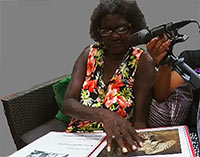 Ena alawudawarra Milyakburra-langwa nukwarrkwajungwa-mu-langwa Marnuka wubirra.
Judy Lalara tells the 'Yinikarrka' story
This is a story from Milyakburra about how a chicken-hawk turned into a stone.
Play video
Play audio
Storybook
Click below for an audio storybook of Judy Lalara telling the Yinikarrka story