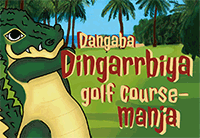 There's a Crocodile on the Golf Course: A story by Rachel Barnett. Translated and voiced by Judy Lalara.
To play the story, click on the panel below. To go through the story, use the screen arrows (< >) or the left/right navigation buttons (← →) on your keyboard.
PDF version
Download a PDF version
To download the PDF version, right-click on the PDF link above, and choose "Save link as ...". Save the file on your device, then open it with a PDF player such as Adobe Reader. You can download Adobe Reader here

Further information
To find out more about the author Rachel Barnett or to purchase the book version (in English), go to Rachel Barnett's website.